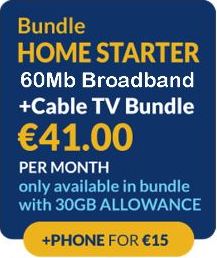 Home Starter – 60Mb and Cable TV– €41.00 per month
100 Digital Cable TV & Radio channels
Increased speeds – Download 60Mb, Upload 6Mb
30G usage per month.
Only €15 to add 043 landline. Your €15 includes for Ireland and UK landline calls.
This option is ideal for light internet users who want a low cost broadband package and 100+ TV & radio channels. With our Home Starter broadband package you can instantly check your emails, book flight tickets get up-to-the-minute stock quotes, sports scores or simply surf the web, all for €41.00 per month!